High Pressure Pumps

Compact, Efficient, Robust, Long Service Life and Simple in Maintenance.
With integrated transmissions and compact dimensions KAMAT high pressure pumps are the ideal tool for countless applications. Simple operation and maintenance are just as characteristic for our plunger pumps as the high modularity and flexibility in capacity (2L to 3,482L per minute) pressure and fluids. Input power reaches from 3.85kW to 800 kW, with operating pressure from 50-3,500 bar.
Download PDF Brochure
PLUNGER PUMPS
PUMP ACCESSORIES
Remote-controlled Ship Hull Crawler Surface Cleaner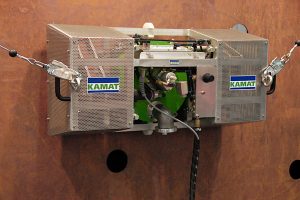 The Ship Hull Crawler cleans ship and tank surfaces in remote-controlled operation. Magnets and chain drive guarantee hold and movement.
We have specially developed the KAMAT Ship Hull Crawler SHC 3000 in order to clean large steel surfaces, for example ships, or large tanks, rapidly and without building scaffolding. Key technical advantages of the high-pressure surface cleaner are the thought-out combination of natural magnets and chain drive, as well as controllable high-pressure nozzles. The complete high-pressure system is remotely controlled conveniently and safely. The hold and drive combination of natural magnets and pneumatically-driven chains enables the Ship Hull Crawler to move over vertical steel surfaces quickly and controllably. It is even able to travel over openings and edges of the steel surfaces, and to clean there. Close radii can also be run over. The controllable, pneumatically-driven, 300 mm nozzle rotor ensures that coatings of every type are removed leaving metallically clean steel. Even overhead work is possible. Thus the usual, manual jetting work for the cleaning e.g. of ship and tank surfaces, is reduced significantly. The KAMAT KAMJET is optimally suitable for driving the SHC 3000.
Kamat Pressure Pump Video